A Few Senegalese Twist Photos from my 2017/2018 Collection: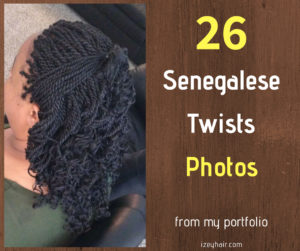 Here are a few photos of my work. Wish I could upload all of them, but that will take a while. I also included a video on 10 Ways To Style Your Senegalese Twists/Braids below (by Gweni*Lavay).
Follow us on Social Media using the links on the header of this page, close to the logo.  And Feel free to comment below or contact us with any questions using the contact tab in the menu bar.
Small Senegalese Twists Curled with Flexirods Color 1B (off-black)

Senegalese Twist with Curled Ends – Black and Burgundy

Long Senegalese Twist with Xpressions Braiding Hair – Color 2 (Brown)

Senegalese Twist with Decorative Cuffs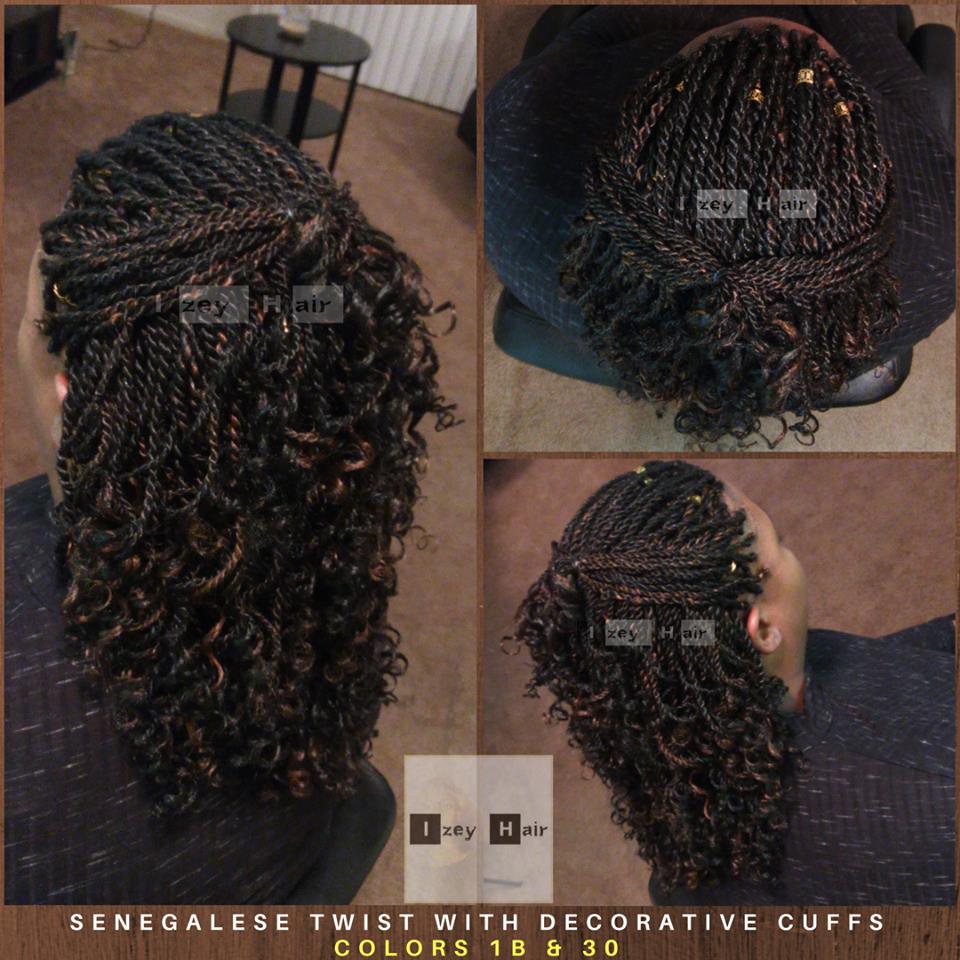 Upper-Back Length Senegalese Twists Curled With Flexirods – Colors 1B and 27

Senegalese Twists – Colors 99J (Dark Auburn) and 1B (Off-black)

Senegalese Twists Curled With Flexible Rollers, and decorative Gold Braid/Loc Cuff Beads: Colors Dark Brown and Burgundy. 

Senegalese Twist With Flexi-Rod Curls – Colors 8 and 350

Senegalese Twists Curled with Flexirods- Colors 1B and 30

Mid-back length Senegalese Twist with curled ends – Colors 1B and 30

Senegalese Braiding Twists- Colors 1B (Off-black) and 350 (Copper Red)

Senegalese Twists – Ends Curled with Flexirods, Braided Curls, Straight Ends. Silver Gray Braids

Ombre (Black and Red) Senegalese Braiding Twist

Senegalese Twists – Colors 4 and 1B

Medium-Sized Senegalese Twist – Color 1B

Senegalese Twists – Colors 1B and 30

Senegalese Twists Curled With Flexible Rollers – Colors 1 & 30

Small Senegalese Twist – Colors 1B & 30

Small Senegalese Twists Curled with Flexirods. Color 1B (off-black) & A Few Strands of Dark Purple

Senegalese Micro-Twists – Colors 4 (brown) and 27 (blond)

Senegalese Twists Curled with Flexirods for Kids

Small Senegalese Twist With Curled Ends – Colors 1 and 30

Senegalese Twist in a Ponytail – Color 99J

Senegalese Twists – Colors 8 and a little bit of 30 – Izey Hair – Las Vegas, NV

Senegalese Twist with Curled Ends – Xpressions Hair

Senegalese Twist – Colors 6 and 4

---
 10 Ways To Style Your Senegalese Twists/Braids by Gweni*Lavay
---