Braids to Conceal Hair Loss on Chemically Treated Hair
#NaturalHairJourney – #ProtectiveStyling
Photo by Izey Hair in Las Vegas, NV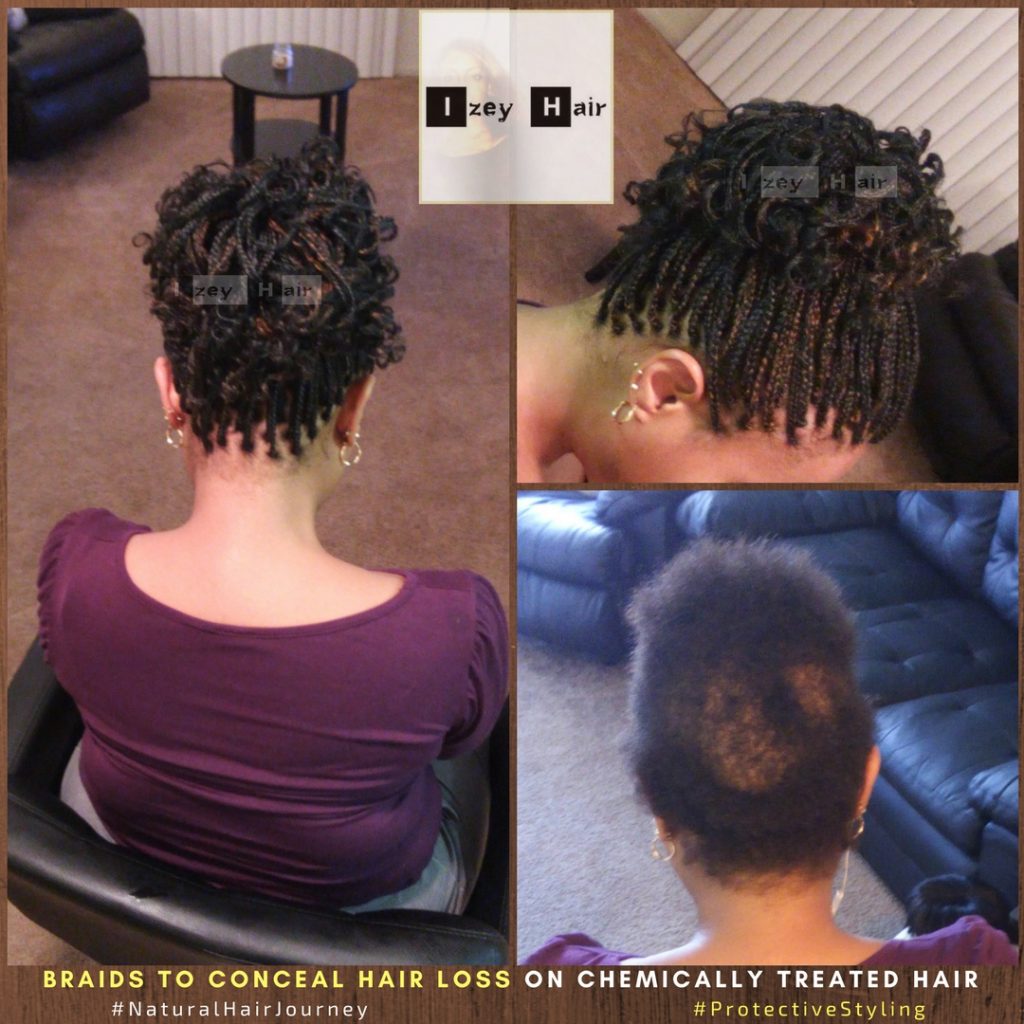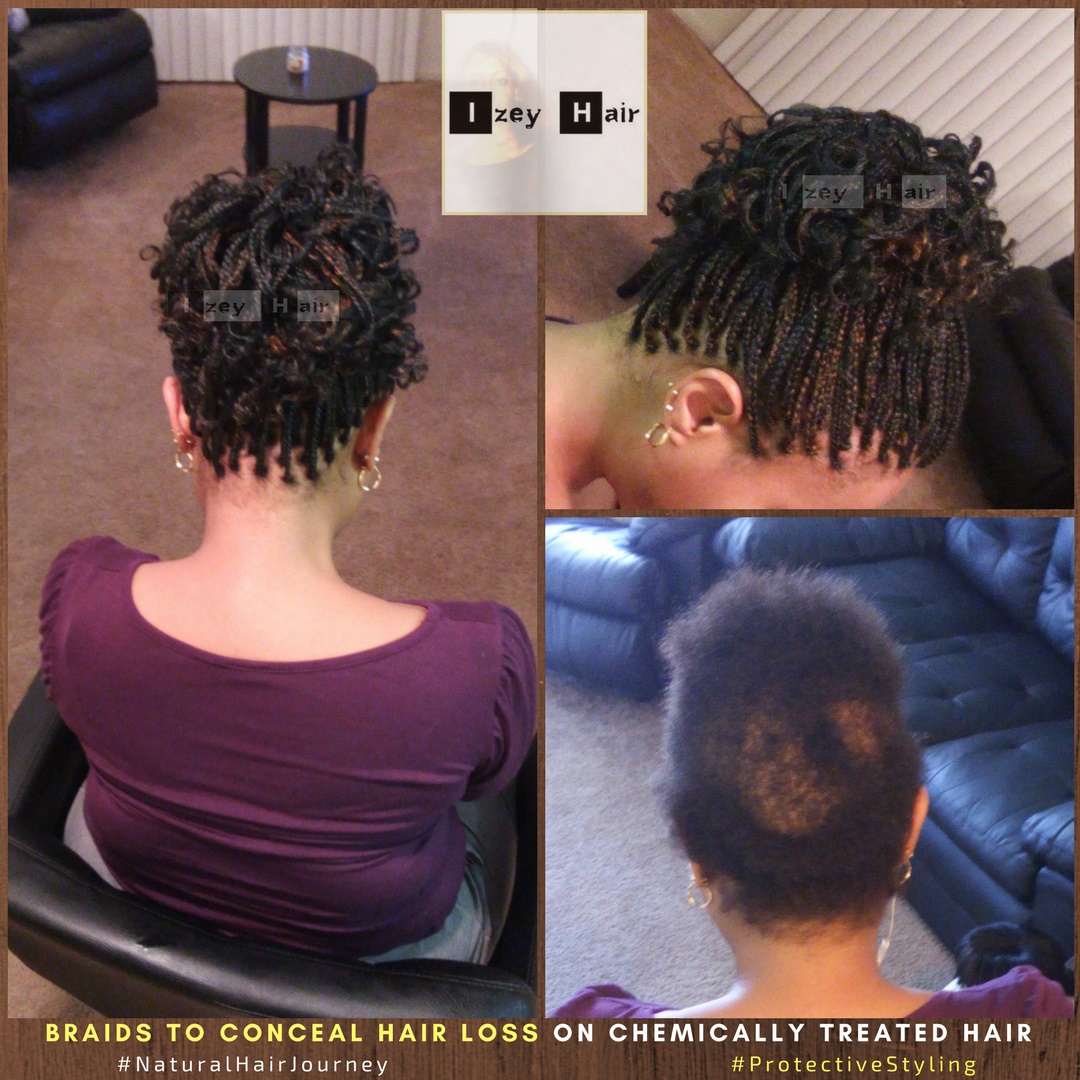 This was the first time I worked on her hair. This was the second time she has ever had braids. Her first time was a few years ago. She's had relaxers and maintained a beautiful short style most of the time.
She recently experienced some hair loss as you can see in the back and sides. Based on my preliminary analysis, it did not resemble traction alopecia (hair loss caused by pulling). This makes perfect sense because prior to her appointment with me, she's only had braids once. And that was a few years ago.
Why women experience sudden hair loss:
There are multiple reasons women experience sudden hair loss. It could be chemical damage, hair product sensitivity/reaction, low iron, hormonal imbalance, etc. Learn more. Working with your doctor and medical hair loss expert can help determine the underlying cause of sudden hair loss and hair breakage. In the meantime, a protective style and proper hair and scalp care is necessary. It is best to get a protective style that will give you and your dermatologist or medical hair loss expert access to your scalp.
Braid Styles for Hair Loss:
She requested a protective style that is simple, quick and easy to maintain, that'll cover the broken spots. As I stated earlier, this is the second time she's ever had braids. She did not want a style that'll overwhelm her.
What kind of braiding hair did I use?
I used Xpressions braiding hair. Color 1B (off-black), and highlights of color 30 (medium auburn). One of the multiple reasons I like Xpressions is because it is lightweight and easy to style. The last thing she, or any client, needs is heavy hair extensions that'll cause unnecessary tension to the hair and scalp.
How did I style the braids?
This braiding hair is straight. I wrapped the braids in flexible rollers, also known as flexi rods, and dipped them in hot water.
Note: please be very careful with this part of the process. Take the necessary precautions.
I removed the flexi-rods and applied mousse after dipping. I blow-dried the braids and applied a little bit of protective styling hair wax.
How did I cover the bald spots with the braids?
I decided to put the hair in an up-do so the curls will cover the spots that were too short to braid. I am pretty good at grabbing short hair, but when it's too short, it is best to wait till it grows out a bit more. This way it's not too tight and it reduces the chances of the braids slipping out, which can be embarrassing ?. We've all seen those random braids on the floor in very awkward and public places. I try to avoid that.
I gave her a 2oz bottle of Shaft N Scalp Mint Oil to help keep her scalp nourished and moisturized. She has a leave in conditioner she uses often. So I asked her to apply the leave-in conditioner to the braids often as well. The frequency of application will depend on her environment and activity. Weather, air vents, etc, can impact moisture on the scalp and hair strands.
What should I do if I experience sudden hair loss?
To summarize, there are many causes of sudden hair loss in women. It is not always traction/pulling. While you are working with your doctor and medical hair loss expert to determine the cause, stop using texture altering chemicals like relaxers, dye, etc. Get a protective style that'll help maintain your confidence and allow you access to your scalp. Keep your scalp and braids moisturized with alcohol-free products.
---
To schedule your protective styling appointment, call or text Izey.
---
Connect with Izey on Facebook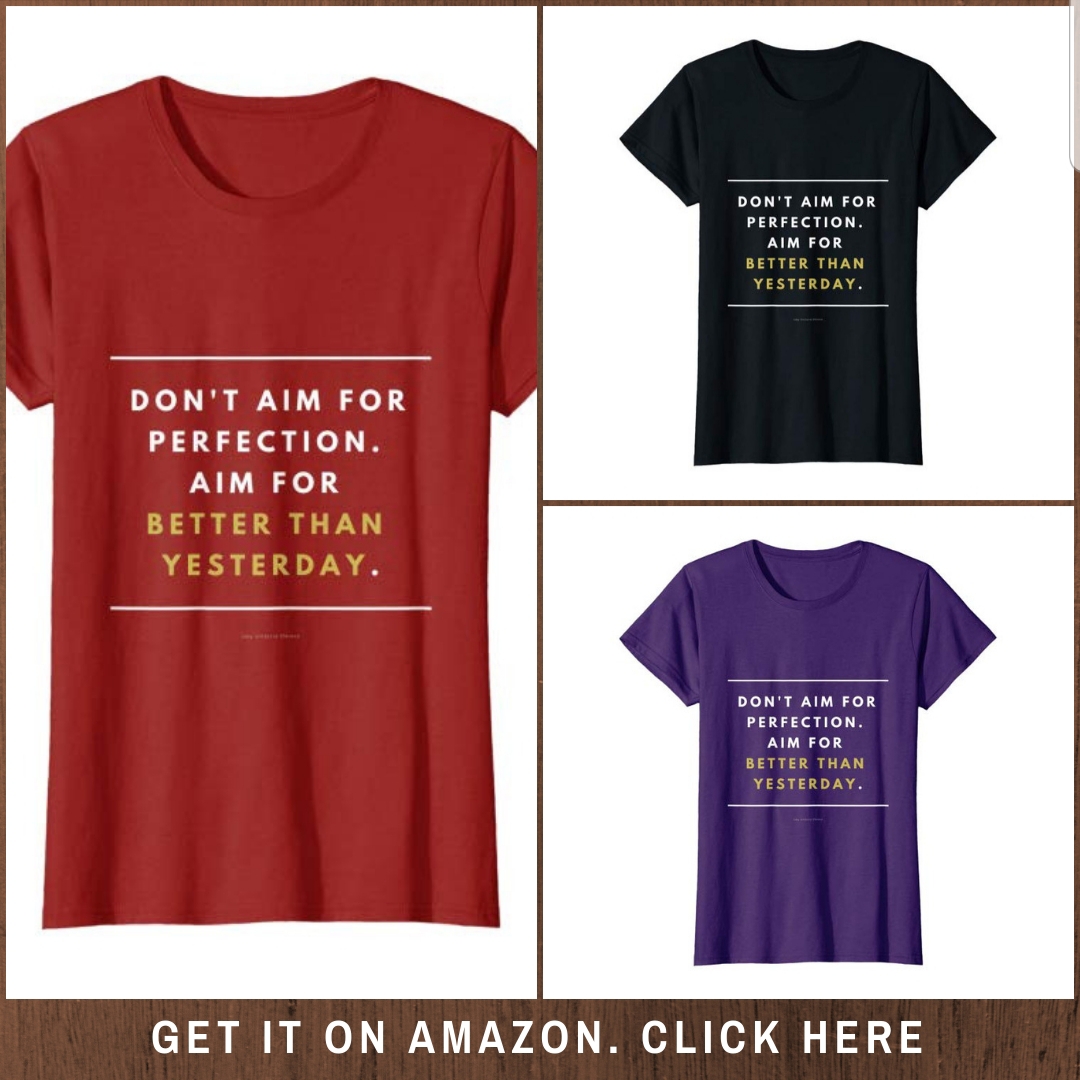 .
.
.